Hola. No sé en qué tipo de ambiente profesional os movéis. El mío es bastante informal y me alegro de ello. Algun@s de vosotras seguro que formáis parte de un ambiente muy profesional y serio donde llevar vaqueros no es lo habitual. Sin embargo, os gustaría no tener que renunciar a ellos por su comodidad. Aquí os van algunos consejos sobre cómo llevarlos de incógnito. Si veis el VIDEO entenderéis el por qué de las prendas elegidas.
Aprovecho para deciros, que está muy lejos de mi intención el querer sentar cátedra o ir de listilla con los consejos/ideas que os doy. Simplemente son cosas que se me ocurren, algunas que veo por ahí, y otras de cosecha propia y quizá sin fundamento. Sólo espero que os sirvan; esa sí que es mi intención. ;)
Hello everyone. I really don't know what your working environment is like. Mine is pretty laid back and that is something that I love. However I know some of you work in a formal or very serious environment where wearing jeans is against the rules. Anyway, you would love not to have to give up on wearing jeans and feeling comfortable. So here goes a few tips on how to wear them in secret. If you watch the VIDEO you will understand why I chose those pieces.
I also would like to take the opportunity to let you know that it is in no way my intention to sound preachy or sound like I know it all. They are just things that I think of, some that I see around and some that I think of myself and may not have a strong foundation. I just want them to be useful to you and that's my real intention.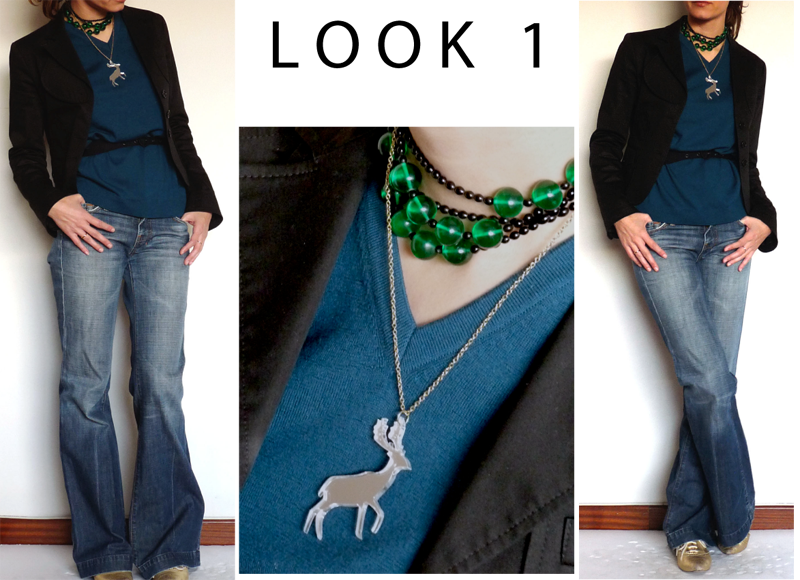 Look 1 : Jeans: Seven; Jersey: Muji; Collares: Varios; Zapatos: Kenzo.
Look 1 : Jeans: Seven; Sweater: Muji; Necklaces: Multiple; Shoes: Kenzo.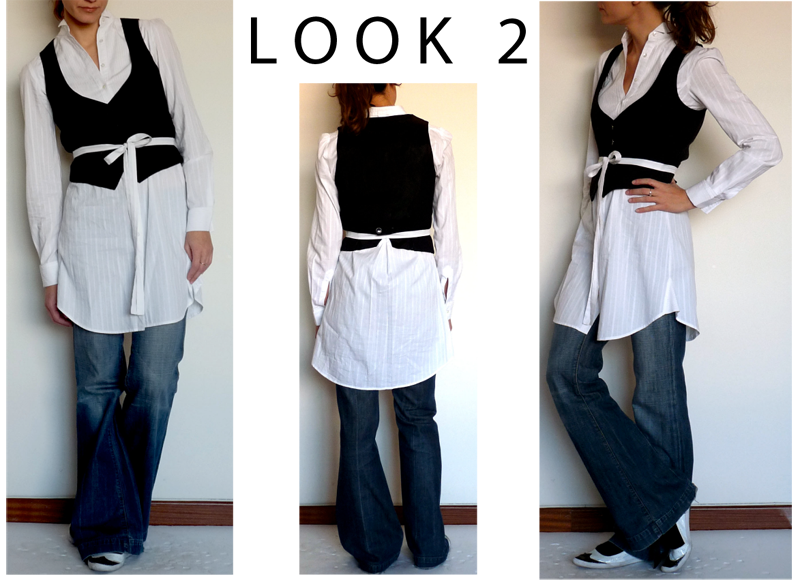 Look 2: Jeans: Seven; Camisa: BCBG; Chaleco: Zara; Zapatos: Ulanka.
Look 2: Jeans: Seven; Shirt: BCBG; Vest: Zara; Shoes: Ulanka.
Look 3: Jeans: Seven; Camiseta: American Apparel; Chaqueta: Asos; Americana: Asos. Collar:
Spanish&Sisters
. Zapatos: Purificación García.
Look 3: Jeans: Seven; Tee: American Apparel; Cardigan: Asos; Jacket: Asos. Necklace: Spanish&Sisters. Shoes: Purificación García.