Hola. Varias de vosotras me habéis preguntado qué hacer si no tienes caderas y quieres crear la ilusión de tenerlas. A este tipo de cuerpo se le suele llamar de tipo H porque la anchura de hombros, caderas y cintura es muy parecida. Así que aquí os van unas ideas que también pueden servir para las que nos gusta exagerarlas de vez en cuando. Aviso, me han jugado una en el vídeo... es hacia el final.
Hello. Some of you have asked me about what to do when you have no waist but would like to create the illusion that you do. This body type is called the H figure and it is characterized by the shoulders, waist and hips, being a similar width. Here go some tips that can also work for those that just want to accentuate the waist some times.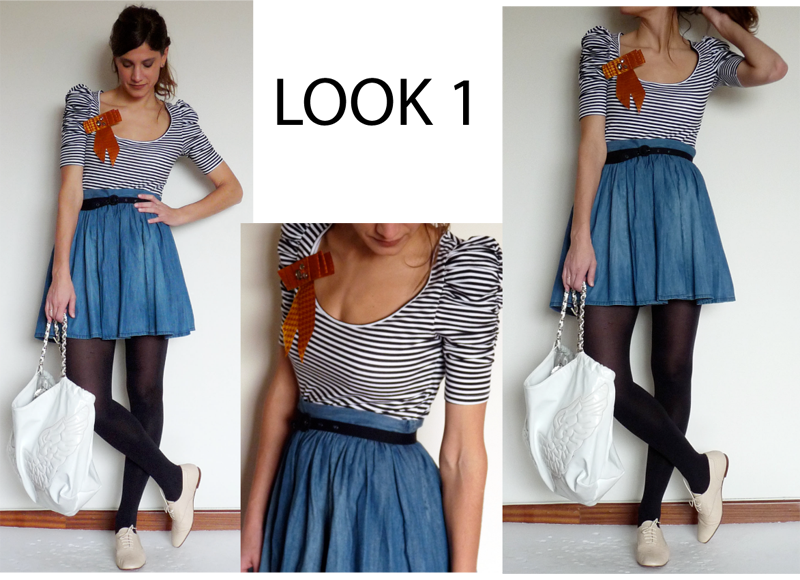 Look 1: Falda: H&M, Top: Zara; Broche: Forever 21, Zapatos: Uterqüe, Bolso: Aldo.
Look 1: Skirt: H&M, Top: Zara; Brooche: Forever 21, Shoes: Uterqüe, Bag: Aldo.
Look 2: Vestido: BCBG Max Azria; Sandalias: Zara; Bolso: Mango.
Look 2: Dress: BCBG Max Azria; Sandals: Zara; Bag: Mango.
Look 3: Camiseta: Zara; Pantalones: Stradivarius; Zapatos: Desconocidos.
Look 3: T-shirt: Zara; Pants: Stradivarius; Shoes: Desconocidos.