¡Hola!
A veces me encantaría tener los súper poderes de las heroínas para poder estar a la altura en todas las exigencias de la vida. ¿No os sentís así? También a veces lo veo de la otra manera: Me siento una pequeña súper heroína por la de cosas que he sido capaz de hacer a pesar de ser un pequeño humanoide.
Pues hoy va un post medio de broma, medio en serio de las "súper transformaciones" que me ha permitido de sí esta camiseta.
Hello everyone.

Sometimes I wish I had the super powers of a superhero so I'd be able to easily deal with all the demanding situations of life throws at me. Do you feel like that? Other times I feel the opposite: I feel like a bit of a superhero as I realise all the things I can achieve being a normal human being.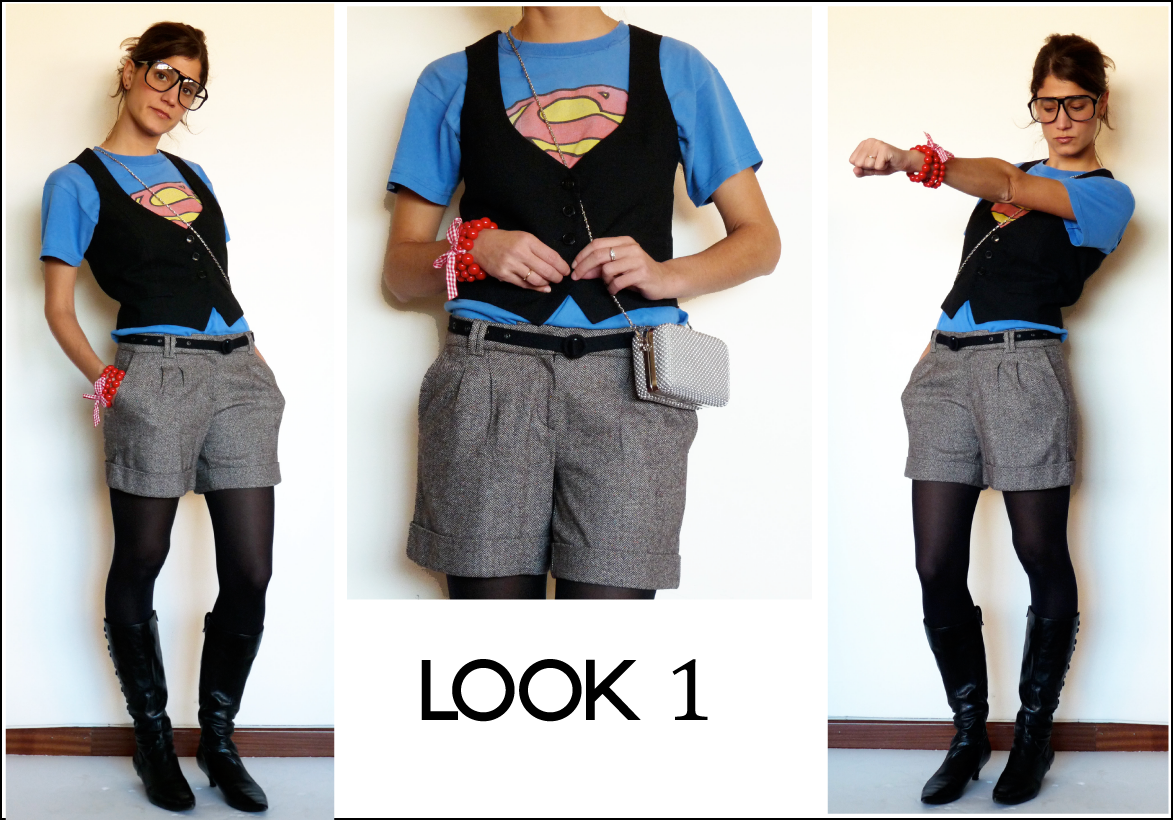 LOOK 1:
Pantalones: Zara, Camiseta: Desconocida. Chaleco: Zara. Botas: Nine West. Bolso: Forever 21.
Shorts: Zara, T-shirt: Unknown. Vest: Zara. Boots: Nine West. Purse: Forever 21.
LOOK 2:
Pantalones: H&M, Camiseta: Desconocido. Chaqueta: Zara, Cinturón: H&M, Zapatillas: RAS
Jeans: H&M, T-shirt: Desconocido. Cardigan: Zara, Belt: H&M, Shoes: RAS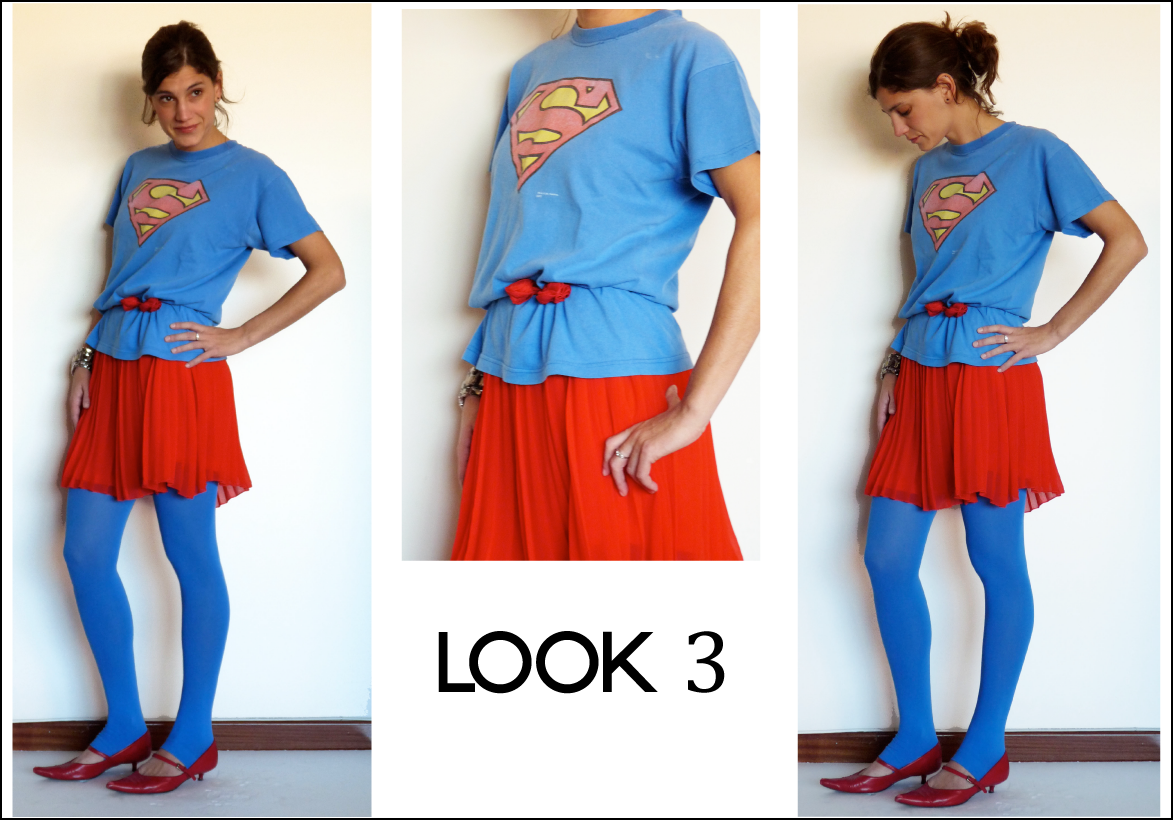 LOOK 3:
Camiseta: Desconocido. Vestido: Forever 21, Cinturón: Es un collar, desconocido. Zapatos: Sacha London
T- shirt: Unknown. Dress: Forever 21, Belt: It is a necklace, unknown. Shoes: Sacha London
Esta semana ha sido agotadora y muestra de ello es mi carero en el vídeo de la superheroina. Os enseño, por si tenéis tiempo, un vídeo que hemos hecho en el curro y en el que interpreto a una Profesora Enrrollada. Me veo horrible pero tiene gracia.
This week I had loads of work. You just have to see my face in the heroines video. Here I show you a video that we did at work. I am interpreting the Cool Teacher. I don´t like how I do it but it is funny.

Esta semana estoy muy agradecida por los 2 nuevos premios que me habéis dado. Sois la bomba. El primero
y para seguir los pasos:
1. Nombrar a quién me lo ha otorgado:
Miss You
Me encanta su estilo porque es clásico, muy fino y elegante.
2. Poner 5 cosas que me gusten hacer:
- Cuando dan las 6 de la tarde y dejo de trabajar para estar con mi pequeña.
- Los planes familiares. Todos, cualquier día y a cualquier hora.
- Las duchas por la noche con agua muy caliente y al ser posible a la luz de una vela.
- Echarme risas con mis amigos.
- Mis 10 minutos de silencio cada día.
3. Nombrar a otras 5 bloggers:
-
Min Smith
porque me encanta su criterio de selección y tratamiento de los post. Siempre aprendo algo nuevo.
-
Aldonza Zúñiga
: Porque disfruto de sus post con esas fotos tan bien elegidas y a tamaño XL.
-
El rinconcito de Lola
porque siempre me sorprende con los rinconcitos donde se saca las fotos.
-
La Ratita Presumida
por sus post siempre con un tono periodístico en el que aprendes y además te lo pasas bien.
-
A Todo Trench
. A parte de encantarme el título de su blog, me encanta la variedad de sus temas.
Y el segundo

me lo ha otorgado
The Lost Wardrobe
de la que me encantan sus propuestas de Look of the Day siempre muy prácticas. Debo confesar 7 rarezas o peculiaridades de mi persona: 1. No soporto los relojes en la muñeca. 2. Bebo unos 3 litros de agua al día. 3. Bebo 1 litro de leche al día. 4. Toco madera cuando digo algo y no quiero que me pase. 5. Mis días favoritos son los nublados. 6. No se me ocurren más peculiaridades, tendría que preguntar a mi marido y está dormido.
El premio se lo otorgo a las misma de arriba. No quiero que os sintáis con el compromiso de tener que pasar el premio, pero sí quiero que os sintáis reconocidas.